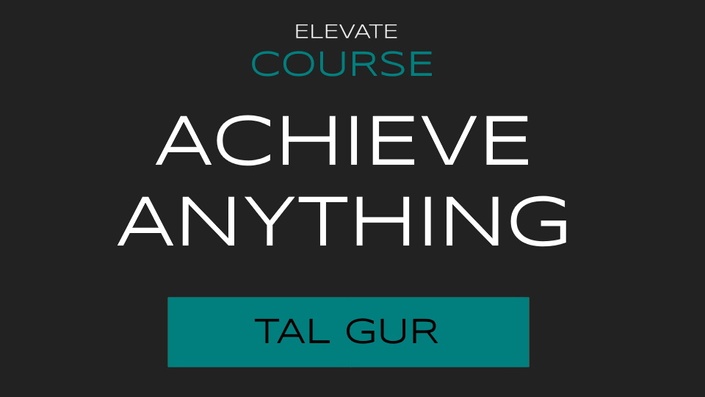 Achieve Anything
Master the art of achievement, realize your biggest dreams, and learn a powerful process that you'll use for the rest of your life
Despite of what most personal development books tell us, setting goals is not enough.
If it was, most people would've achieved a lot more with their lives than they actually have.

The fact that 92% of people fail to achieve their new year's resolutions, illustrates painstakingly clearly how small of an impact making resolutions and "getting started" actually has on achievement.

Unfortunately, for most people making resolutions is also where they stop, and that is simply not enough.

Here's what really matters...
Following through - that's what matters.
Uncovering the root cause of what stops you, is what matters.
Building the right belief system, is what matters.
Integrating a new identity, is what truly matters
Understand, setting goals only gets you a starting position in the race. Building the right belief system and taking consistent action over a prolonged period of time is what takes you over the finish line.

The true secret to achievement

After coaching hundreds of people from every denomination, age, and personality type, I've found that the biggest problem is that most people approach their dreams too casually.
In fact, most people spend more time planning their birthday party than designing their future...

Turning big dreams into a reality goes far beyond wishful thinking and sincere commitment. It requires making a lasting change in many areas of life.

Areas such as:
Habits & Rituals
Energy & Time management
Productivity & Effectiveness
Mindset & Beliefs
Emotional Mastery
Clearing Distractions
Transforming Fear & Procrastination
Maintaining Momentum & Consistency
Subconscious Reprogramming
Identity Work
You see, in order to achieve big goals, you first need to elevate your inner game. This means that you need to work on who you are from the inside out.

Elevating your inner game

In my experience, most people fail with their goals not because of limited resources or not using a certain goal strategy, but because they underestimate the necessary inner change.
Here's something important to remember: the deepest layer of any behavioral change is identity, not outcomes (i.e., goals). If your identity changes, then outcomes are more likely to change as well. If not, your old identity is more likely to sabotage your efforts.

This is crucial because when identity and beliefs are misaligned, an inner conflict is bound to happen. Basically, the different parts within you start a war with each other, which usually ends with you reverting back to the more comfortable version of yourself.

In fact, the way I see it, most goal attainment efforts are like stretching an elastic band. For a while, things seem to be working and you're making progress but then SNAP, you're back to your baseline default.
That's why I created this course. The Achieve Anything course goes beyond the traditional goal-setting process and includes the necessary identity work and inner foundation.
Introducing Achieve Anything

This self paced course is the result of my lifelong passion to identify the most effective process for attaining big goals.
I've used this exact same process to achieve all my life goals over the last decade. Some of the things I've achieved using this process are:

Obtaining financial and location independence.
Completing an Ironman Triathlon.
Traveling around the world without the need to ever go back
Building a house for a family in need with no building experience or funds.
Needless to say, this system works. I am the living proof of that. I've also coached dozens of others using the exact same principles in this course.
Plus - I'm including an EXTRA program as a bonus when you enroll.

You will also get:
> Wealth Mastery. A comprehensive step-by-step roadmap to growing your wealth, developing an abundance mindset, and breaking free from your money blocks
Just click the "Enroll" button below and kickstart your journey.
So if you are truly serious about living your dream life, getting out of your comfort zone, and investing in yourself, then this course is for you.
Get started now by enrolling below.

Author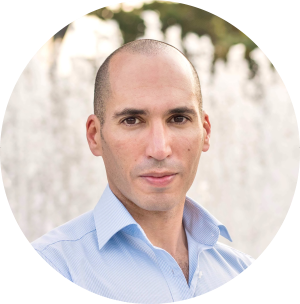 Founder of ELEVATE Society, Author of The Art of Fully Living, Spent a decade pursuing 100 life goals around the globe.
Curriculum
Introduction
Available in days
days after you enroll
Module 1 - Designing Your Dream Year
Available in days
days after you enroll
Module 2 - The Inner Game
Available in days
days after you enroll
Frequently Asked Questions
When does the course start and finish?
The course starts now and never ends! It is a completely self-paced online course - you decide when you start and when you finish.
How long do I have access to the course?
How does lifetime access sound? After enrolling, you have unlimited access to this course for as long as you like - across any and all devices you own.
How does this course work?
This course consists of a number of modules. You can go through all of them in one day or you might want to commit to working through one module a day for the next week. In each module there are a few lessons. Each one includes a section called "Action Items" - These are exercises that I developed to help you avoid falling into the pit a lot of people in personal development fall into – the "all theory, no action" pit.
What People Say About Achieve Anything
"...This course is full of original content presented in a concise, no-nonsense kinda way. Tal's sincerity and genuine desire to help others achieve their goals shines through the content of the course. Some of the specific things that I loved about the course are: the simple and easy to use downloadable worksheets, the "Will-do" List, the and the tips for maintaining motivation... Maintaining motivation over a period of time is one of the biggest challenges for me, and for many others I suspect. The module on limiting beliefs is also significant. I think that these ingrained beliefs are the primary reason why most fail, but the topic is so complex and individualized that most authors just gloss over it." Dennis F.

***
"..I have found the course to be a very enlightening and positive experience. As a result of this course I have now set myself 3 goals that I am very happy with and motivated by. One of the biggest breakthroughs for me was in identifying my 'whys.' I now have established my primary reasons for wanting to achieve my goals, and that has given me more motivation. Identifying my reasons for procrastination was also a big step forward. Working through the exercises was paramount in my progress, and it was interesting that although I had tried several times over the past few months to clarify my goals, this was the first time that I had managed to do so. Also, I very much enjoyed having videos to watch as well as text to read. This made the course more interesting, and a refreshingly different from simply buying a book to read". Sue R.

***

"Tal Gur's course creates a solid foundation to build dreams on. He gives ideas on how to choose your dreams and act on them. The course has action steps to complete as well as motivational videos filled with real life examples. His course is solidly built on psychological and biological principles. He understands procrastination and motivation as well as the need for water, sleep, and physical exercise. I like how the course incorporates different motivational tips and challenges but is delivered in a conversational, simple, and motivational manner." Bill R.

***

"This is definitely a course to invest in where it gives very practical and useful information in how to achieve your goals by guiding you step by step, while also inspiring you and motivating you as you go through. I am very satisfied with what I learned and absorbed from this course. This course will definitely add perspective and direction on how you approach goals. I also enjoyed the videos because they did not feel like filler video. They were to the point but covered what was needed to be said. The inspirational quotes supported your point and gave some affirmation to it all. Armae T.
***

"This is true lifestyle design and I felt like it gave me permission to decide what I really want out of life without it just being daydreaming; The list of questions to help me write down my life goals was really helpful. The idea of goals being flexible was also really helpful. In addition, I really liked that the course was broken up with audio - It was good to hear a voice. You have obviously put a lot of effort into creating this course. As I read through it and listened to it I got the feeling that you practice what you preach. Catherine D.
***

"I highly recommend this course to everyone who wants to be successful in life. I've got my plan for this year by following the method in the course. Tal really understands goal setting and every module in the course is useful and interesting. Moreover, the course also provides solutions for common problems like lacking motivation, fear, procrastination and social media distraction. Rinrada P.
***

"Tal Gur is an expert in translating larger than life dreams into reality. He values personal freedom and empowerment. He has made these pursuits his life time quest. He endeavours to show others the lessons he has learned from his family, teachers and coaches, informal and formal educational experiences and global village travels. He challenges and coaches people to actualize their vast reservoir of untapped competencies and potentials, and to be fully human and alive in doing so. Tal's courses and materials are not for the faint of heart. They make great demands upon the readers and people wanting to make their perceived impossible dreams happen, especially the ones that choose to complete the exercises, prepare resulting action plans to make their wildest dreams come true. It is evident Tal walks what he talks, as attested in his promotional materials. Earle B.
***

"The course was FANTASTIC!!! You have managed to encapsulate what I have spent thousands of dollars on with other programs in a nice, step-by-step program that doesn't take months to complete. I took my time with this and completed it over a few days because I wanted to really dig deep into some of the questions asked in the attachments. For me, completing all of the action items has given me a crystal clear focus on what I need to do to reach my goals that are attainable. I also appreciate the module addressing fear/procrastination and how to overcome it. Some of the other courses I've taken skims over this topic with "you'll have your bad days but keep going". Your program addresses this and provides real tangible solutions. Thank you." Lynn J.
***

"This course is a very comprehensive and detailed course that will take your goal setting and achieving to a whole new level. Backed up by scientific data and personal experience , it is a very well designed course that is easy to follow and navigate with lots of actionable items. You are guaranteed to learn new things even if you thought you knew everything there is to know about goal setting and accomplishing. You get a lot of useful and usable information for a very reasonable price. So this is definitely a very helpful tool to jumpstart your dream year!" Regina G.
***

"Jump start your dream year, helped me take my very long bucket list/goal list and realize my bigger dreams, but definitely will help those who have not even one goal to find a dream. It is in a very easy step by step format, a very easy to follow process turning big dreams into attainable goals. It helps you from getting over excited and burning yourself out and teaches you how to keep going when you just don't feel it anymore. Personally doing this course has given me the confidence to believe I can accomplish it all in a very realistic way that suits me." Jessica V. N.
***

"This is a comprehensive course. Well done! I am following you for a few years now. I always read your emails. And I can see that you have applied the knowledge of the past years in this course. What I like is that you have a detailed explanation of how the goal setting process works, I like the worksheets, very helpful questions in them." Ferry N.
***

"I am pleased to say that the goal setting course and activities were really valuable. From creating and breaking down the goals though to revealing beliefs which are limiting, this course has been enlightening. I feel much more equipped to tackle my goals." Hannah R.
***

Your course was the first online self development course I bought online. I signed up for several other courses meanwhile. Still I've not come across any podcast, course or book, which has been as useful and as effective as the one you created. Thank you for sharing your experiences! Julia S.
***